1 – Once you are on your channel page, click on

to join the channel, then select the trackers you want to share.
2 – Click on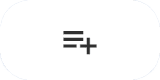 to choose which trackers you want to enable/disable for the channel.
3 – To exit the channel, click on, click on "Leave" :

.
How do I search or create a channel?
1 – On Connect or the Capturs application, open the left menu and click on Channels (public).

2 – Search for a channel or create a new one with the search bar.

3 – Click on the + to create a channel.