In order to send an alert, you have to create one and configure it.
Enter the email addresses and/or phone numbers of your relatives in the configuration of your alert.
To send an alert, you must be in an area covered by the Sigfox network (for the trackers) or by GSM (for the smartphone).
How to create and configure an alert?
1 – On Connect or the Capturs application, open the left menu and click on My Alerts.
2 – Choose the GPS tracker you want to configure.
3 – To create a new alert, click on

. Choose the type of alert in the scroll bar that appears.
4 – Click on the icon

  to set up your alert. 

Possible configurations:
– Add a name to the alert.
– Enable automatic reactivation of the alert.
– Create time slots for triggering alerts.
– Choose the type of sending of the alert (SMS, Email, API Callback)

Alert content:
– Add one or more Emails, phone numbers, etc..
– Customize the subject and content of the alert as you wish.
– Check the "Share link activated" case if you want to share your tracking link in the alert.

For area alerts:
– Customize the zones by pressing the dots around the red zone.
– Create round or polygonal areas.
– Capturs Systems Connect specific: select an area already registered in the library.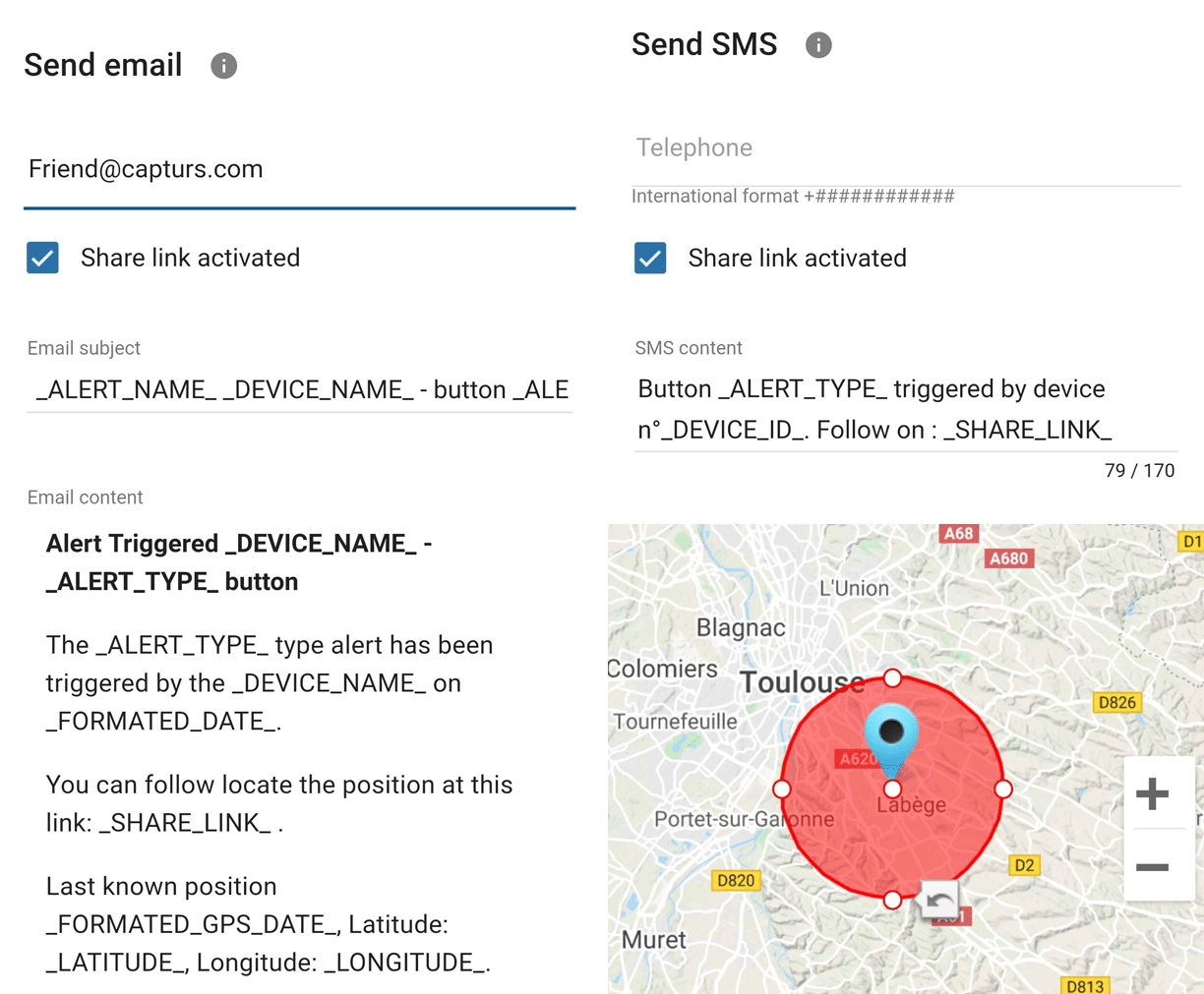 If it's a click button alert (Model B/A):
Just click on the button in the middle of the device according to the chosen alert (1 click, 2 clicks, 4 clicks or a long click). The blue led at the bottom left of the device will blink as many times as you clicked on the button.
If it is the 3 clicks alert (Model B/A):
In the case of the 3-click alert, there is an acknowledgement function: after pressing the button 3 times, the "red" and "green" leds will start flashing alternately until the acknowledgement is received, where the green led will flash rapidly. If this is not the case, the red led will blink quickly and the device will try to send the alert again 10 minutes later and start blinking alternately until validation or not of the data reception.
If it is a area alert:
Your alert is sent automatically when your tracker (device or smartphone) enters or leaves the area you have configured.
If it is a motion alert:
When your device is stationary and hasn't moved for a while, your motion alert will be triggered when the device's motion is detected.
If it is a no motion alert:
An alert will be sent when the device has been stationary for a set time.
If it is a low battery alert (Model B, A and C):
An alert will be sent when the battery is less than 20% of its capacity.